From the Head of Early Years
Dear Parents,
One of the Early Years' qualities derives from our strong sense of community and a foundation built on partnerships and trust. The diversity of our international student catchment is our key strength, and as we come to the end of another school year, it is these qualities that have helped us get through this very difficult and challenging year. We have all worked so hard together to keep the school open and ensure children come to school, respecting our Covid protocols in place, and our children must be congratulated for their resilience and adaptability that are wonderful attributes of well-balanced international students!
Our attendance has been high at around an average of 89.9% with the remaining percentage on our Distance Learning for Covid-related reasons. As a result, the Early Years Distance Learning site has developed and expanded throughout the year, and navigating and retrieving relevant information has become easier.
Teachers and classroom assistants have gone far beyond their job expectations and I would like to thank everyone sincerely on my Team for working with so much dedication, adapting so well to the new protocols, upskilling and learning new techniques overnight, managing to take new daily directives all in their stride, continuously improving, supporting one another, never complaining, facing great personal challenges of being separated from family and loved ones since the pandemic started, and working so hard to provide the safe haven and reassurance for all our young students…all these factors have highlighted the wonderful professionalism we have in the Early Years Team! This also includes Fayanne at reception, our security officers Fred and Pierre Olivier, our housekeeper Christine, and our concierge Sam. Thank you again, wonderful Early Years Team!!
I take this opportunity to thank the PTA and the Early Years PTA class representatives for all their help and support. We haven't hosted the 'normal' school events, but we have improvised during this pandemic year. (Please see the "Reflections" presentation in the "More from Early Years" section below.) We look forward to working together on new exciting projects next year!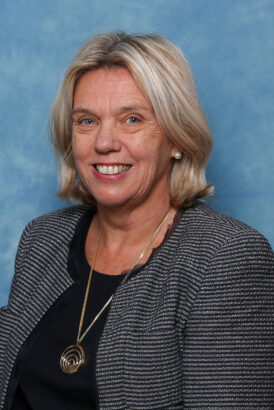 ---
Teddy Bear Family
Children are always eager to take home our Early Years' Bear Family, and to be awarded the class bear is a great motivator. Witnessing the joy on a child's face when they receive the bear,  and coming out in assembly to much applause, is most heartwarming for all the Team. But now the Bear Family members are off on their annual summer holiday…with Miss Pinkie. We look forward to hearing about their adventures in Miss Pinkie's garden!
---
House Points
Children have been highly motivated this school year to earn House points by excelling in their learning, being kind and upholding our ISM values.
Here are the results for this school year, and the winning House is Shackleton with 1650 points!
Overall this term the houses have accumulated 6370 house points!
SUMMER TERM HOUSE POINTS
WINNERS = SHACKLETON (green) with 1650 house points
2nd Place = GRIMALDI (red) with 1646 house points
3rd Place = BARET (yellow) with 1565 house points
4th place = EARHART (blue) with 1509 house points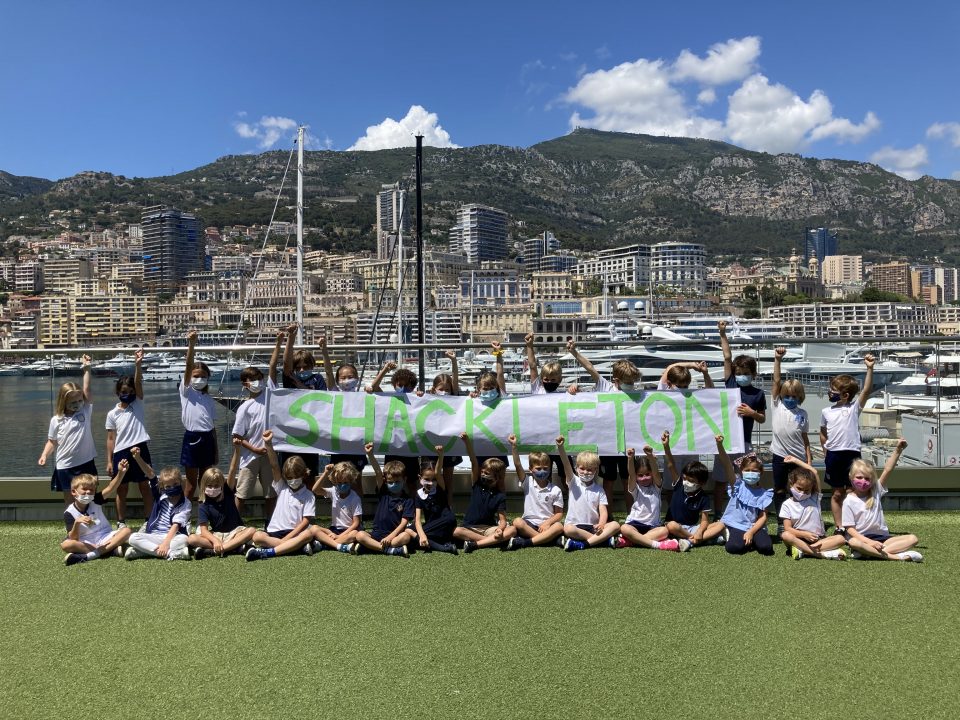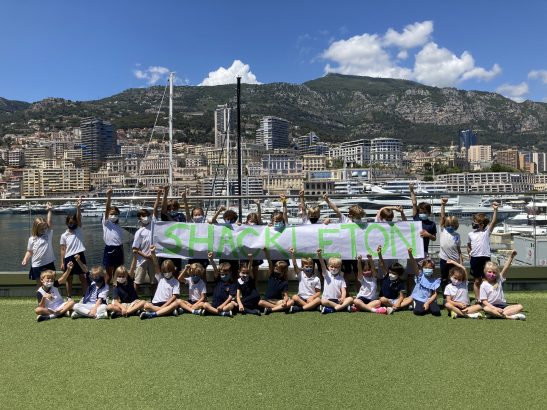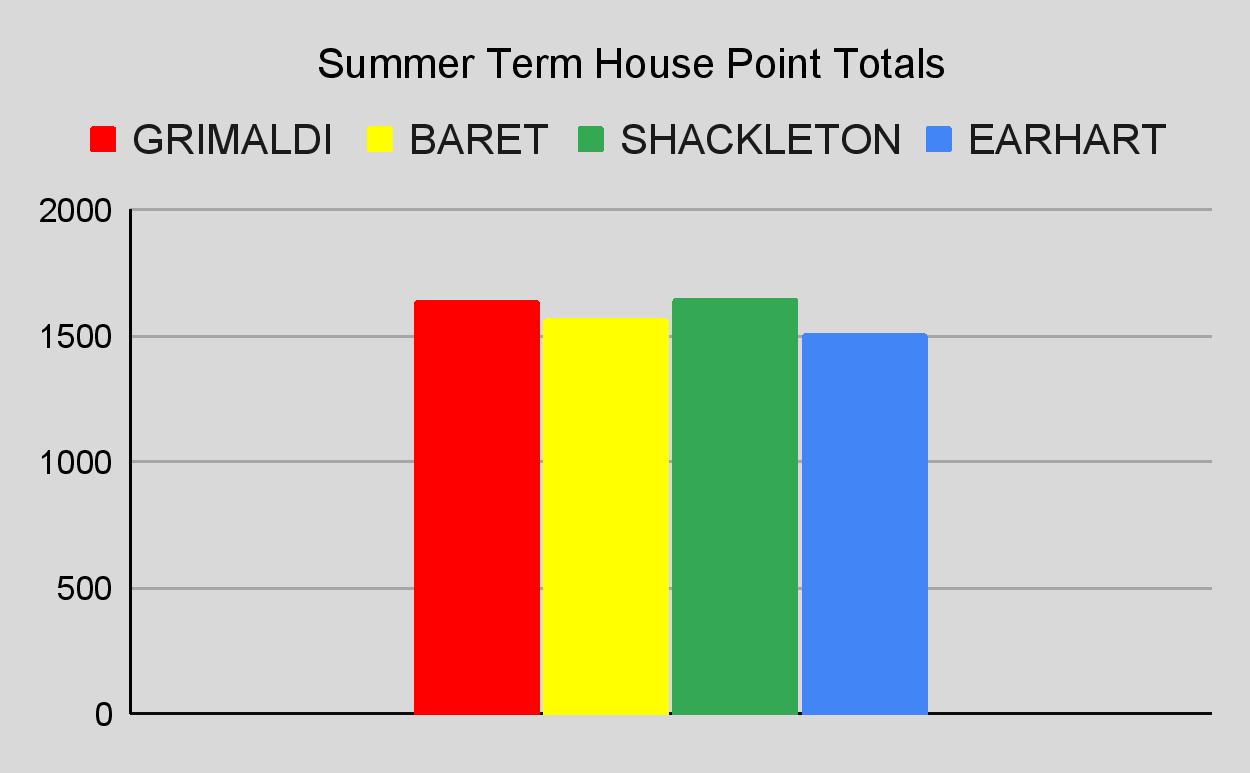 ---
Goodbyes
The completion of another academic year also marks the departure of students and their families, as well as teachers. I would like to wish our departing families all the best as they leave to embrace new adventures, and I wish all our students joining new schools much success and happiness.
We also say goodbye to our Year 3 students as they move up to the Primary School, and we wish them all the very best as they look forward to new challenges in Year 4. I sincerely thank them for everything they have contributed to our learning community here in the Early Years. They have made a video to say 'goodbye' to all of us! Thank you, dear Year 3 students, for being a wonderful group of students for us! We will miss you!
It is also with great sadness that we say goodbye to some wonderful members of staff on the Early Years Team. Some have been with us for many years and it is with a heavy heart that I say 'goodbye' to some key players on my Team. I thank them for all their contributions and hard work and will miss them very much!
Thank you to Mr. Jonny for being a wonderful, caring and dedicated teacher in Class 1D. He leaves us for new projects, and we wish him and his family all the very best.
Miss Nicole, who has been an excellent Kindergarten teacher with all her expertise and insight, leaves us to return to Canada to get married! We wish Nicole and Darin every joy and happiness in their future lives together.
Mrs Brett, who is an excellent Early Years practitioner and my Assistant Head, with all her patience and TLC, leaves us to catch up with her family back in Scotland. We wish the Brett Family all the very best and thank her for her support over the years.
Amanda, our classroom assistant in Class 1A, leaves us to spend more time with her daughter, Victoria. We wish her every success and happiness in future projects.
We hope that those leaving us will carry with them in their hearts the unique sense of family spirit found in the Early Years and a feeling of pride to have been a part of our ISM Family. We will miss you all, and we wish you all the very best in the next chapter of your lives!
---
Over the summer, all students will be receiving information from school concerning the 'rentrée', and I will communicate with you concerning class lists once I am back in the office after August 17th.
A few points of information to note:
On Tuesday 29th June, children participated in a creative art & crafts activity organised by the PTA. In the afternoon, as a special treat, an ice cream van visited the playground!
Leavers' assembly was held on Wednesday 30th June. There were in-class refreshments kindly offered by the PTA and provided by George in our cafeteria.
All ECAs finished for this school year on Friday 25th June
End of year school reports were sent out to parents, by post, at the end of the school day on Monday 28th June.
Just a reminder that any request for early departure must be addressed directly to myself. Emails sent to Fayanne stating that you are leaving will not be accepted.
A Jacadi plain navy dress or pinafore dress for Early Years' girls is now included in the ISM school uniform.
I end by wishing everyone a wonderful summer holiday spent with family and friends, with many exciting adventures, filled with fun and laughter! As we reflect on this pandemic, how good was it that the 'show went on' and we were able to retain a sense of normality during this crazy year! We got through it together, working as such a close-knit community, and I thank you all most sincerely for all your trust and support!
Warmest regards to all!
Mrs. Ragi and the Early Years Team
More news from the Early Years
We invite you to view our Reflections Presentation:
---
Breaking news – here are some of the vegetables and herbs we have grown in our garden!