We were delighted to celebrate the graduation of our Year 13 students at the Méridien Hotel on June 3rd.
It was a very special evening celebrating the talents and achievements of our students, and we would like to thank everyone who helped to make the evening so special, including Ms Bonnal, Commissioner General of the Department of Education, Youth and Sport in Monaco, members of our Board of Trustees and our President of the Board of Trustees Mrs Felicity Reardon, our Director Mr Stuart Bryan, and our inspirational guest speakers Mr Andrew Heinrich and Mr Cesc Fàbregas. We were particularly proud that a selection of our graduates gave short speeches in the 6 different languages represented in the ISM curriculum, which exemplifies our commitment to multilingualism and our vision of international education with distinction.
Many congratulations once again to our Class of 2022, and we wish you all the very best in your next steps!!
Photo credits: Ed Wright Images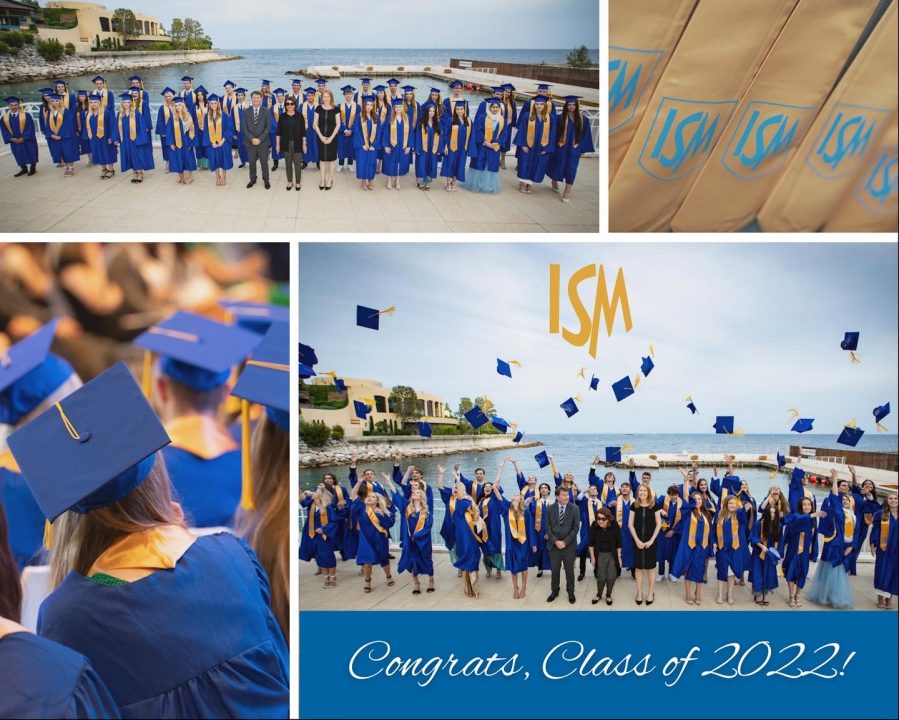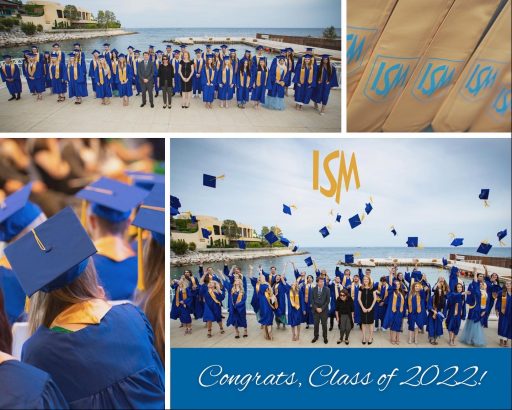 array(14) { [0]=> array(24) { ["ID"]=> int(17232) ["id"]=> int(17232) ["title"]=> string(15) "EdWImages_-1194" ["filename"]=> string(19) "EdWImages_-1194.jpg" ["filesize"]=> int(2498207) ["url"]=> string(71) "https://www.ismonaco.org/wp-content/uploads/2022/06/EdWImages_-1194.jpg" ["link"]=> string(73) "https://www.ismonaco.org/whats-on/newsletters/edition-50/edwimages_-1194/" ["alt"]=> string(0) "" ["author"]=> string(1) "6" ["description"]=> string(0) "" ["caption"]=> string(0) "" ["name"]=> string(15) "edwimages_-1194" ["status"]=> string(7) "inherit" ["uploaded_to"]=> int(16180) ["date"]=> string(19) "2022-06-10 05:15:16" ["modified"]=> string(19) "2022-06-13 12:14:30" ["menu_order"]=> int(0) ["mime_type"]=> string(10) "image/jpeg" ["type"]=> string(5) "image" ["subtype"]=> string(4) "jpeg" ["icon"]=> string(61) "https://www.ismonaco.org/wp-includes/images/media/default.png" ["width"]=> int(2500) ["height"]=> int(1667) ["sizes"]=> array(12) { ["thumbnail"]=> string(79) "https://www.ismonaco.org/wp-content/uploads/2022/06/EdWImages_-1194-300x300.jpg" ["thumbnail-width"]=> int(300) ["thumbnail-height"]=> int(300) ["medium"]=> string(79) "https://www.ismonaco.org/wp-content/uploads/2022/06/EdWImages_-1194-615x410.jpg" ["medium-width"]=> int(615) ["medium-height"]=> int(410) ["medium_large"]=> string(80) "https://www.ismonaco.org/wp-content/uploads/2022/06/EdWImages_-1194-1080x720.jpg" ["medium_large-width"]=> int(1080) ["medium_large-height"]=> int(720) ["large"]=> string(81) "https://www.ismonaco.org/wp-content/uploads/2022/06/EdWImages_-1194-1500x1000.jpg" ["large-width"]=> int(1500) ["large-height"]=> int(1000) } } [1]=> array(24) { ["ID"]=> int(17124) ["id"]=> int(17124) ["title"]=> string(15) "EdWImages_-0697" ["filename"]=> string(19) "EdWImages_-0697.jpg" ["filesize"]=> int(1592443) ["url"]=> string(71) "https://www.ismonaco.org/wp-content/uploads/2022/06/EdWImages_-0697.jpg" ["link"]=> string(73) "https://www.ismonaco.org/whats-on/newsletters/edition-50/edwimages_-0697/" ["alt"]=> string(0) "" ["author"]=> string(1) "6" ["description"]=> string(0) "" ["caption"]=> string(0) "" ["name"]=> string(15) "edwimages_-0697" ["status"]=> string(7) "inherit" ["uploaded_to"]=> int(16180) ["date"]=> string(19) "2022-06-10 05:13:35" ["modified"]=> string(19) "2022-06-10 05:13:35" ["menu_order"]=> int(0) ["mime_type"]=> string(10) "image/jpeg" ["type"]=> string(5) "image" ["subtype"]=> string(4) "jpeg" ["icon"]=> string(61) "https://www.ismonaco.org/wp-includes/images/media/default.png" ["width"]=> int(2500) ["height"]=> int(1667) ["sizes"]=> array(12) { ["thumbnail"]=> string(79) "https://www.ismonaco.org/wp-content/uploads/2022/06/EdWImages_-0697-300x300.jpg" ["thumbnail-width"]=> int(300) ["thumbnail-height"]=> int(300) ["medium"]=> string(79) "https://www.ismonaco.org/wp-content/uploads/2022/06/EdWImages_-0697-615x410.jpg" ["medium-width"]=> int(615) ["medium-height"]=> int(410) ["medium_large"]=> string(80) "https://www.ismonaco.org/wp-content/uploads/2022/06/EdWImages_-0697-1080x720.jpg" ["medium_large-width"]=> int(1080) ["medium_large-height"]=> int(720) ["large"]=> string(81) "https://www.ismonaco.org/wp-content/uploads/2022/06/EdWImages_-0697-1500x1000.jpg" ["large-width"]=> int(1500) ["large-height"]=> int(1000) } } [2]=> array(24) { ["ID"]=> int(17076) ["id"]=> int(17076) ["title"]=> string(15) "EdWImages_-0561" ["filename"]=> string(19) "EdWImages_-0561.jpg" ["filesize"]=> int(2737560) ["url"]=> string(71) "https://www.ismonaco.org/wp-content/uploads/2022/06/EdWImages_-0561.jpg" ["link"]=> string(73) "https://www.ismonaco.org/whats-on/newsletters/edition-50/edwimages_-0561/" ["alt"]=> string(0) "" ["author"]=> string(1) "6" ["description"]=> string(0) "" ["caption"]=> string(0) "" ["name"]=> string(15) "edwimages_-0561" ["status"]=> string(7) "inherit" ["uploaded_to"]=> int(16180) ["date"]=> string(19) "2022-06-10 05:12:54" ["modified"]=> string(19) "2022-06-13 12:13:30" ["menu_order"]=> int(0) ["mime_type"]=> string(10) "image/jpeg" ["type"]=> string(5) "image" ["subtype"]=> string(4) "jpeg" ["icon"]=> string(61) "https://www.ismonaco.org/wp-includes/images/media/default.png" ["width"]=> int(2500) ["height"]=> int(1667) ["sizes"]=> array(12) { ["thumbnail"]=> string(79) "https://www.ismonaco.org/wp-content/uploads/2022/06/EdWImages_-0561-300x300.jpg" ["thumbnail-width"]=> int(300) ["thumbnail-height"]=> int(300) ["medium"]=> string(79) "https://www.ismonaco.org/wp-content/uploads/2022/06/EdWImages_-0561-615x410.jpg" ["medium-width"]=> int(615) ["medium-height"]=> int(410) ["medium_large"]=> string(80) "https://www.ismonaco.org/wp-content/uploads/2022/06/EdWImages_-0561-1080x720.jpg" ["medium_large-width"]=> int(1080) ["medium_large-height"]=> int(720) ["large"]=> string(81) "https://www.ismonaco.org/wp-content/uploads/2022/06/EdWImages_-0561-1500x1000.jpg" ["large-width"]=> int(1500) ["large-height"]=> int(1000) } } [3]=> array(24) { ["ID"]=> int(17128) ["id"]=> int(17128) ["title"]=> string(15) "EdWImages_-0709" ["filename"]=> string(19) "EdWImages_-0709.jpg" ["filesize"]=> int(1412446) ["url"]=> string(71) "https://www.ismonaco.org/wp-content/uploads/2022/06/EdWImages_-0709.jpg" ["link"]=> string(73) "https://www.ismonaco.org/whats-on/newsletters/edition-50/edwimages_-0709/" ["alt"]=> string(0) "" ["author"]=> string(1) "6" ["description"]=> string(0) "" ["caption"]=> string(0) "" ["name"]=> string(15) "edwimages_-0709" ["status"]=> string(7) "inherit" ["uploaded_to"]=> int(16180) ["date"]=> string(19) "2022-06-10 05:13:38" ["modified"]=> string(19) "2022-06-10 05:13:38" ["menu_order"]=> int(0) ["mime_type"]=> string(10) "image/jpeg" ["type"]=> string(5) "image" ["subtype"]=> string(4) "jpeg" ["icon"]=> string(61) "https://www.ismonaco.org/wp-includes/images/media/default.png" ["width"]=> int(2500) ["height"]=> int(1667) ["sizes"]=> array(12) { ["thumbnail"]=> string(79) "https://www.ismonaco.org/wp-content/uploads/2022/06/EdWImages_-0709-300x300.jpg" ["thumbnail-width"]=> int(300) ["thumbnail-height"]=> int(300) ["medium"]=> string(79) "https://www.ismonaco.org/wp-content/uploads/2022/06/EdWImages_-0709-615x410.jpg" ["medium-width"]=> int(615) ["medium-height"]=> int(410) ["medium_large"]=> string(80) "https://www.ismonaco.org/wp-content/uploads/2022/06/EdWImages_-0709-1080x720.jpg" ["medium_large-width"]=> int(1080) ["medium_large-height"]=> int(720) ["large"]=> string(81) "https://www.ismonaco.org/wp-content/uploads/2022/06/EdWImages_-0709-1500x1000.jpg" ["large-width"]=> int(1500) ["large-height"]=> int(1000) } } [4]=> array(24) { ["ID"]=> int(17019) ["id"]=> int(17019) ["title"]=> string(19) "EdWImages_-0498 (1)" ["filename"]=> string(21) "EdWImages_-0498-1.jpg" ["filesize"]=> int(2904476) ["url"]=> string(73) "https://www.ismonaco.org/wp-content/uploads/2022/06/EdWImages_-0498-1.jpg" ["link"]=> string(102) "https://www.ismonaco.org/whats-on/newsletters/edition-50/from-the-board-of-trustees/edwimages_-0498-1/" ["alt"]=> string(0) "" ["author"]=> string(1) "6" ["description"]=> string(0) "" ["caption"]=> string(0) "" ["name"]=> string(17) "edwimages_-0498-1" ["status"]=> string(7) "inherit" ["uploaded_to"]=> int(16196) ["date"]=> string(19) "2022-06-10 05:04:59" ["modified"]=> string(19) "2022-06-10 05:04:59" ["menu_order"]=> int(0) ["mime_type"]=> string(10) "image/jpeg" ["type"]=> string(5) "image" ["subtype"]=> string(4) "jpeg" ["icon"]=> string(61) "https://www.ismonaco.org/wp-includes/images/media/default.png" ["width"]=> int(2500) ["height"]=> int(1667) ["sizes"]=> array(12) { ["thumbnail"]=> string(81) "https://www.ismonaco.org/wp-content/uploads/2022/06/EdWImages_-0498-1-300x300.jpg" ["thumbnail-width"]=> int(300) ["thumbnail-height"]=> int(300) ["medium"]=> string(81) "https://www.ismonaco.org/wp-content/uploads/2022/06/EdWImages_-0498-1-615x410.jpg" ["medium-width"]=> int(615) ["medium-height"]=> int(410) ["medium_large"]=> string(82) "https://www.ismonaco.org/wp-content/uploads/2022/06/EdWImages_-0498-1-1080x720.jpg" ["medium_large-width"]=> int(1080) ["medium_large-height"]=> int(720) ["large"]=> string(83) "https://www.ismonaco.org/wp-content/uploads/2022/06/EdWImages_-0498-1-1500x1000.jpg" ["large-width"]=> int(1500) ["large-height"]=> int(1000) } } [5]=> array(24) { ["ID"]=> int(17152) ["id"]=> int(17152) ["title"]=> string(15) "EdWImages_-0775" ["filename"]=> string(19) "EdWImages_-0775.jpg" ["filesize"]=> int(1815873) ["url"]=> string(71) "https://www.ismonaco.org/wp-content/uploads/2022/06/EdWImages_-0775.jpg" ["link"]=> string(73) "https://www.ismonaco.org/whats-on/newsletters/edition-50/edwimages_-0775/" ["alt"]=> string(0) "" ["author"]=> string(1) "6" ["description"]=> string(0) "" ["caption"]=> string(0) "" ["name"]=> string(15) "edwimages_-0775" ["status"]=> string(7) "inherit" ["uploaded_to"]=> int(16180) ["date"]=> string(19) "2022-06-10 05:14:02" ["modified"]=> string(19) "2022-06-10 05:14:02" ["menu_order"]=> int(0) ["mime_type"]=> string(10) "image/jpeg" ["type"]=> string(5) "image" ["subtype"]=> string(4) "jpeg" ["icon"]=> string(61) "https://www.ismonaco.org/wp-includes/images/media/default.png" ["width"]=> int(2500) ["height"]=> int(1667) ["sizes"]=> array(12) { ["thumbnail"]=> string(79) "https://www.ismonaco.org/wp-content/uploads/2022/06/EdWImages_-0775-300x300.jpg" ["thumbnail-width"]=> int(300) ["thumbnail-height"]=> int(300) ["medium"]=> string(79) "https://www.ismonaco.org/wp-content/uploads/2022/06/EdWImages_-0775-615x410.jpg" ["medium-width"]=> int(615) ["medium-height"]=> int(410) ["medium_large"]=> string(80) "https://www.ismonaco.org/wp-content/uploads/2022/06/EdWImages_-0775-1080x720.jpg" ["medium_large-width"]=> int(1080) ["medium_large-height"]=> int(720) ["large"]=> string(81) "https://www.ismonaco.org/wp-content/uploads/2022/06/EdWImages_-0775-1500x1000.jpg" ["large-width"]=> int(1500) ["large-height"]=> int(1000) } } [6]=> array(24) { ["ID"]=> int(17112) ["id"]=> int(17112) ["title"]=> string(15) "EdWImages_-0689" ["filename"]=> string(19) "EdWImages_-0689.jpg" ["filesize"]=> int(1913101) ["url"]=> string(71) "https://www.ismonaco.org/wp-content/uploads/2022/06/EdWImages_-0689.jpg" ["link"]=> string(73) "https://www.ismonaco.org/whats-on/newsletters/edition-50/edwimages_-0689/" ["alt"]=> string(0) "" ["author"]=> string(1) "6" ["description"]=> string(0) "" ["caption"]=> string(0) "" ["name"]=> string(15) "edwimages_-0689" ["status"]=> string(7) "inherit" ["uploaded_to"]=> int(16180) ["date"]=> string(19) "2022-06-10 05:13:21" ["modified"]=> string(19) "2022-06-10 05:13:21" ["menu_order"]=> int(0) ["mime_type"]=> string(10) "image/jpeg" ["type"]=> string(5) "image" ["subtype"]=> string(4) "jpeg" ["icon"]=> string(61) "https://www.ismonaco.org/wp-includes/images/media/default.png" ["width"]=> int(2500) ["height"]=> int(1667) ["sizes"]=> array(12) { ["thumbnail"]=> string(79) "https://www.ismonaco.org/wp-content/uploads/2022/06/EdWImages_-0689-300x300.jpg" ["thumbnail-width"]=> int(300) ["thumbnail-height"]=> int(300) ["medium"]=> string(79) "https://www.ismonaco.org/wp-content/uploads/2022/06/EdWImages_-0689-615x410.jpg" ["medium-width"]=> int(615) ["medium-height"]=> int(410) ["medium_large"]=> string(80) "https://www.ismonaco.org/wp-content/uploads/2022/06/EdWImages_-0689-1080x720.jpg" ["medium_large-width"]=> int(1080) ["medium_large-height"]=> int(720) ["large"]=> string(81) "https://www.ismonaco.org/wp-content/uploads/2022/06/EdWImages_-0689-1500x1000.jpg" ["large-width"]=> int(1500) ["large-height"]=> int(1000) } } [7]=> array(24) { ["ID"]=> int(17304) ["id"]=> int(17304) ["title"]=> string(8) "IMG_8953" ["filename"]=> string(12) "IMG_8953.jpg" ["filesize"]=> int(1343892) ["url"]=> string(64) "https://www.ismonaco.org/wp-content/uploads/2022/06/IMG_8953.jpg" ["link"]=> string(66) "https://www.ismonaco.org/whats-on/newsletters/edition-50/img_8953/" ["alt"]=> string(0) "" ["author"]=> string(1) "6" ["description"]=> string(0) "" ["caption"]=> string(0) "" ["name"]=> string(8) "img_8953" ["status"]=> string(7) "inherit" ["uploaded_to"]=> int(16180) ["date"]=> string(19) "2022-06-10 05:16:16" ["modified"]=> string(19) "2022-06-10 05:16:16" ["menu_order"]=> int(0) ["mime_type"]=> string(10) "image/jpeg" ["type"]=> string(5) "image" ["subtype"]=> string(4) "jpeg" ["icon"]=> string(61) "https://www.ismonaco.org/wp-includes/images/media/default.png" ["width"]=> int(2202) ["height"]=> int(1490) ["sizes"]=> array(12) { ["thumbnail"]=> string(72) "https://www.ismonaco.org/wp-content/uploads/2022/06/IMG_8953-300x300.jpg" ["thumbnail-width"]=> int(300) ["thumbnail-height"]=> int(300) ["medium"]=> string(72) "https://www.ismonaco.org/wp-content/uploads/2022/06/IMG_8953-606x410.jpg" ["medium-width"]=> int(606) ["medium-height"]=> int(410) ["medium_large"]=> string(73) "https://www.ismonaco.org/wp-content/uploads/2022/06/IMG_8953-1064x720.jpg" ["medium_large-width"]=> int(1064) ["medium_large-height"]=> int(720) ["large"]=> string(74) "https://www.ismonaco.org/wp-content/uploads/2022/06/IMG_8953-1478x1000.jpg" ["large-width"]=> int(1478) ["large-height"]=> int(1000) } } [8]=> array(24) { ["ID"]=> int(17140) ["id"]=> int(17140) ["title"]=> string(15) "EdWImages_-0737" ["filename"]=> string(19) "EdWImages_-0737.jpg" ["filesize"]=> int(2003723) ["url"]=> string(71) "https://www.ismonaco.org/wp-content/uploads/2022/06/EdWImages_-0737.jpg" ["link"]=> string(73) "https://www.ismonaco.org/whats-on/newsletters/edition-50/edwimages_-0737/" ["alt"]=> string(0) "" ["author"]=> string(1) "6" ["description"]=> string(0) "" ["caption"]=> string(0) "" ["name"]=> string(15) "edwimages_-0737" ["status"]=> string(7) "inherit" ["uploaded_to"]=> int(16180) ["date"]=> string(19) "2022-06-10 05:13:50" ["modified"]=> string(19) "2022-06-10 05:13:50" ["menu_order"]=> int(0) ["mime_type"]=> string(10) "image/jpeg" ["type"]=> string(5) "image" ["subtype"]=> string(4) "jpeg" ["icon"]=> string(61) "https://www.ismonaco.org/wp-includes/images/media/default.png" ["width"]=> int(2500) ["height"]=> int(1667) ["sizes"]=> array(12) { ["thumbnail"]=> string(79) "https://www.ismonaco.org/wp-content/uploads/2022/06/EdWImages_-0737-300x300.jpg" ["thumbnail-width"]=> int(300) ["thumbnail-height"]=> int(300) ["medium"]=> string(79) "https://www.ismonaco.org/wp-content/uploads/2022/06/EdWImages_-0737-615x410.jpg" ["medium-width"]=> int(615) ["medium-height"]=> int(410) ["medium_large"]=> string(80) "https://www.ismonaco.org/wp-content/uploads/2022/06/EdWImages_-0737-1080x720.jpg" ["medium_large-width"]=> int(1080) ["medium_large-height"]=> int(720) ["large"]=> string(81) "https://www.ismonaco.org/wp-content/uploads/2022/06/EdWImages_-0737-1500x1000.jpg" ["large-width"]=> int(1500) ["large-height"]=> int(1000) } } [9]=> array(24) { ["ID"]=> int(17156) ["id"]=> int(17156) ["title"]=> string(15) "EdWImages_-0780" ["filename"]=> string(19) "EdWImages_-0780.jpg" ["filesize"]=> int(2072301) ["url"]=> string(71) "https://www.ismonaco.org/wp-content/uploads/2022/06/EdWImages_-0780.jpg" ["link"]=> string(73) "https://www.ismonaco.org/whats-on/newsletters/edition-50/edwimages_-0780/" ["alt"]=> string(0) "" ["author"]=> string(1) "6" ["description"]=> string(0) "" ["caption"]=> string(0) "" ["name"]=> string(15) "edwimages_-0780" ["status"]=> string(7) "inherit" ["uploaded_to"]=> int(16180) ["date"]=> string(19) "2022-06-10 05:14:06" ["modified"]=> string(19) "2022-06-10 05:14:06" ["menu_order"]=> int(0) ["mime_type"]=> string(10) "image/jpeg" ["type"]=> string(5) "image" ["subtype"]=> string(4) "jpeg" ["icon"]=> string(61) "https://www.ismonaco.org/wp-includes/images/media/default.png" ["width"]=> int(2500) ["height"]=> int(1667) ["sizes"]=> array(12) { ["thumbnail"]=> string(79) "https://www.ismonaco.org/wp-content/uploads/2022/06/EdWImages_-0780-300x300.jpg" ["thumbnail-width"]=> int(300) ["thumbnail-height"]=> int(300) ["medium"]=> string(79) "https://www.ismonaco.org/wp-content/uploads/2022/06/EdWImages_-0780-615x410.jpg" ["medium-width"]=> int(615) ["medium-height"]=> int(410) ["medium_large"]=> string(80) "https://www.ismonaco.org/wp-content/uploads/2022/06/EdWImages_-0780-1080x720.jpg" ["medium_large-width"]=> int(1080) ["medium_large-height"]=> int(720) ["large"]=> string(81) "https://www.ismonaco.org/wp-content/uploads/2022/06/EdWImages_-0780-1500x1000.jpg" ["large-width"]=> int(1500) ["large-height"]=> int(1000) } } [10]=> array(24) { ["ID"]=> int(17312) ["id"]=> int(17312) ["title"]=> string(8) "IMG_8955" ["filename"]=> string(12) "IMG_8955.jpg" ["filesize"]=> int(356644) ["url"]=> string(64) "https://www.ismonaco.org/wp-content/uploads/2022/06/IMG_8955.jpg" ["link"]=> string(66) "https://www.ismonaco.org/whats-on/newsletters/edition-50/img_8955/" ["alt"]=> string(0) "" ["author"]=> string(1) "6" ["description"]=> string(0) "" ["caption"]=> string(0) "" ["name"]=> string(8) "img_8955" ["status"]=> string(7) "inherit" ["uploaded_to"]=> int(16180) ["date"]=> string(19) "2022-06-10 05:16:20" ["modified"]=> string(19) "2022-06-10 05:16:20" ["menu_order"]=> int(0) ["mime_type"]=> string(10) "image/jpeg" ["type"]=> string(5) "image" ["subtype"]=> string(4) "jpeg" ["icon"]=> string(61) "https://www.ismonaco.org/wp-includes/images/media/default.png" ["width"]=> int(1416) ["height"]=> int(1197) ["sizes"]=> array(12) { ["thumbnail"]=> string(72) "https://www.ismonaco.org/wp-content/uploads/2022/06/IMG_8955-300x300.jpg" ["thumbnail-width"]=> int(300) ["thumbnail-height"]=> int(300) ["medium"]=> string(72) "https://www.ismonaco.org/wp-content/uploads/2022/06/IMG_8955-485x410.jpg" ["medium-width"]=> int(485) ["medium-height"]=> int(410) ["medium_large"]=> string(72) "https://www.ismonaco.org/wp-content/uploads/2022/06/IMG_8955-852x720.jpg" ["medium_large-width"]=> int(852) ["medium_large-height"]=> int(720) ["large"]=> string(74) "https://www.ismonaco.org/wp-content/uploads/2022/06/IMG_8955-1183x1000.jpg" ["large-width"]=> int(1183) ["large-height"]=> int(1000) } } [11]=> array(24) { ["ID"]=> int(17208) ["id"]=> int(17208) ["title"]=> string(15) "EdWImages_-0931" ["filename"]=> string(19) "EdWImages_-0931.jpg" ["filesize"]=> int(1746594) ["url"]=> string(71) "https://www.ismonaco.org/wp-content/uploads/2022/06/EdWImages_-0931.jpg" ["link"]=> string(73) "https://www.ismonaco.org/whats-on/newsletters/edition-50/edwimages_-0931/" ["alt"]=> string(0) "" ["author"]=> string(1) "6" ["description"]=> string(0) "" ["caption"]=> string(0) "" ["name"]=> string(15) "edwimages_-0931" ["status"]=> string(7) "inherit" ["uploaded_to"]=> int(16180) ["date"]=> string(19) "2022-06-10 05:14:51" ["modified"]=> string(19) "2022-06-10 05:14:51" ["menu_order"]=> int(0) ["mime_type"]=> string(10) "image/jpeg" ["type"]=> string(5) "image" ["subtype"]=> string(4) "jpeg" ["icon"]=> string(61) "https://www.ismonaco.org/wp-includes/images/media/default.png" ["width"]=> int(2500) ["height"]=> int(1667) ["sizes"]=> array(12) { ["thumbnail"]=> string(79) "https://www.ismonaco.org/wp-content/uploads/2022/06/EdWImages_-0931-300x300.jpg" ["thumbnail-width"]=> int(300) ["thumbnail-height"]=> int(300) ["medium"]=> string(79) "https://www.ismonaco.org/wp-content/uploads/2022/06/EdWImages_-0931-615x410.jpg" ["medium-width"]=> int(615) ["medium-height"]=> int(410) ["medium_large"]=> string(80) "https://www.ismonaco.org/wp-content/uploads/2022/06/EdWImages_-0931-1080x720.jpg" ["medium_large-width"]=> int(1080) ["medium_large-height"]=> int(720) ["large"]=> string(81) "https://www.ismonaco.org/wp-content/uploads/2022/06/EdWImages_-0931-1500x1000.jpg" ["large-width"]=> int(1500) ["large-height"]=> int(1000) } } [12]=> array(24) { ["ID"]=> int(17296) ["id"]=> int(17296) ["title"]=> string(8) "IMG_8951" ["filename"]=> string(12) "IMG_8951.jpg" ["filesize"]=> int(1048985) ["url"]=> string(64) "https://www.ismonaco.org/wp-content/uploads/2022/06/IMG_8951.jpg" ["link"]=> string(66) "https://www.ismonaco.org/whats-on/newsletters/edition-50/img_8951/" ["alt"]=> string(0) "" ["author"]=> string(1) "6" ["description"]=> string(0) "" ["caption"]=> string(0) "" ["name"]=> string(8) "img_8951" ["status"]=> string(7) "inherit" ["uploaded_to"]=> int(16180) ["date"]=> string(19) "2022-06-10 05:16:11" ["modified"]=> string(19) "2022-06-10 05:16:11" ["menu_order"]=> int(0) ["mime_type"]=> string(10) "image/jpeg" ["type"]=> string(5) "image" ["subtype"]=> string(4) "jpeg" ["icon"]=> string(61) "https://www.ismonaco.org/wp-includes/images/media/default.png" ["width"]=> int(2459) ["height"]=> int(1639) ["sizes"]=> array(12) { ["thumbnail"]=> string(72) "https://www.ismonaco.org/wp-content/uploads/2022/06/IMG_8951-300x300.jpg" ["thumbnail-width"]=> int(300) ["thumbnail-height"]=> int(300) ["medium"]=> string(72) "https://www.ismonaco.org/wp-content/uploads/2022/06/IMG_8951-615x410.jpg" ["medium-width"]=> int(615) ["medium-height"]=> int(410) ["medium_large"]=> string(73) "https://www.ismonaco.org/wp-content/uploads/2022/06/IMG_8951-1080x720.jpg" ["medium_large-width"]=> int(1080) ["medium_large-height"]=> int(720) ["large"]=> string(74) "https://www.ismonaco.org/wp-content/uploads/2022/06/IMG_8951-1500x1000.jpg" ["large-width"]=> int(1500) ["large-height"]=> int(1000) } } [13]=> array(24) { ["ID"]=> int(17292) ["id"]=> int(17292) ["title"]=> string(8) "IMG_8949" ["filename"]=> string(14) "IMG_8949-1.jpg" ["filesize"]=> int(1032965) ["url"]=> string(66) "https://www.ismonaco.org/wp-content/uploads/2022/06/IMG_8949-1.jpg" ["link"]=> string(68) "https://www.ismonaco.org/whats-on/newsletters/edition-50/img_8949-2/" ["alt"]=> string(0) "" ["author"]=> string(1) "6" ["description"]=> string(0) "" ["caption"]=> string(0) "" ["name"]=> string(10) "img_8949-2" ["status"]=> string(7) "inherit" ["uploaded_to"]=> int(16180) ["date"]=> string(19) "2022-06-10 05:16:07" ["modified"]=> string(19) "2022-06-10 05:16:07" ["menu_order"]=> int(0) ["mime_type"]=> string(10) "image/jpeg" ["type"]=> string(5) "image" ["subtype"]=> string(4) "jpeg" ["icon"]=> string(61) "https://www.ismonaco.org/wp-includes/images/media/default.png" ["width"]=> int(2429) ["height"]=> int(1620) ["sizes"]=> array(12) { ["thumbnail"]=> string(74) "https://www.ismonaco.org/wp-content/uploads/2022/06/IMG_8949-1-300x300.jpg" ["thumbnail-width"]=> int(300) ["thumbnail-height"]=> int(300) ["medium"]=> string(74) "https://www.ismonaco.org/wp-content/uploads/2022/06/IMG_8949-1-615x410.jpg" ["medium-width"]=> int(615) ["medium-height"]=> int(410) ["medium_large"]=> string(75) "https://www.ismonaco.org/wp-content/uploads/2022/06/IMG_8949-1-1080x720.jpg" ["medium_large-width"]=> int(1080) ["medium_large-height"]=> int(720) ["large"]=> string(76) "https://www.ismonaco.org/wp-content/uploads/2022/06/IMG_8949-1-1499x1000.jpg" ["large-width"]=> int(1499) ["large-height"]=> int(1000) } } }