The International School of Monaco is thrilled to be included in the 2023 Schools Index compiled by Carfax Education, the leading international index of the very best private boarding and day schools from different regions across the globe. 
Created by a panel of education experts led by Carfax Education, with consultants on the ground across the world, the 2023 Schools Index names the International School of Monaco as one of the Top 15 Schools in Europe (excluding Switzerland) and among the best 125 private schools internationally. Schools are selected based on a variety of criteria, including academic results and preparation for university entry as well as their unique ethos, their reputation both locally and internationally, and how they prepare students for life beyond academia.
ISM's Director Mr Stuart Bryan stated, "I am absolutely delighted that, once again, the International School of Monaco has been included in the Carfax Education School's Index as one of the Top 125 private schools globally. This is a fantastic accolade for the whole ISM community and testimony to the fantastic progress the school has made, both academically and holistically, in fulfilling its mission of providing an outstanding education. The school's commitment to excellence, reflected through implementing the highest quality International Baccalaureate (IB) curricula frameworks, student and staff wellbeing, reflected through providing the highest standards of pastoral care, and multilingualism, reflected through promoting international mindedness, global citizenship and consistent teaching and learning strategies, have ensured that the school is aspiring fully to achieving its vision of international education with distinction."
We congratulate our entire community on this prestigious recognition!
To view this year's full index, please click below: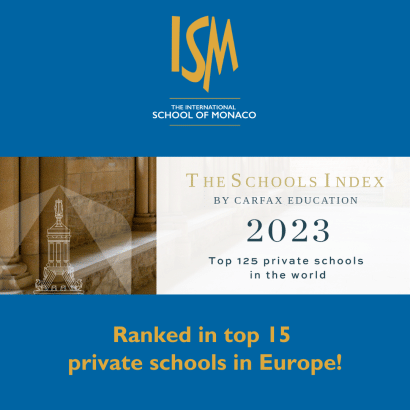 To view a news report by TVMonaco featuring ISM's ranking in the 2023 Schools Index, please click below:
To view a news report by Monaco Info featuring ISM's ranking in the 2023 Schools Index, please click below:
To view several recent publications in local media about this ranking, please click below:
Nice Matin: L'International School of Monaco classée parmi les meilleures écoles privées d'Europe
Monaco Daily News: ISM named one of world's best schools
Riviera Radio evening news features ISM ranking by Carfax Education
ASMFC: ISM nommée l'une des meilleures écoles du monde
Monaco Life: ISM and ISN make prestigious list of the world's top private schools
Monaco Tribune: The International School of Monaco, one of Europe's top 15 schools
Monaco Tribune: L'International School of Monaco dans le top 15 des écoles en Europe