Well done to all students who competed in the Sports Celebration and House competitions this week! 
During the Sports Celebration for Years 4 to 10, students leaped to spike volleyballs, sliced tennis balls with their precision forehands, and vaulted across gymnasiums wearing their PE kits and House colours.
Winning teams of each tournament won 4 points for their House that contributed to an overall score per year group and as a whole school. Runners up gained 3 points, and 3rd and 4th place achieved 2 and 1 point, respectively. These scores have now all been processed and the results are in! Shackleton really stole the show in Years 4, 5, 9, and 10, whilst, for Grimaldi, consistency was key, never coming below second place and finishing first in Years 6 and 7 (clearly ones to watch for the future!). Baret managed to come first in year 8, but were less consistent overall. Take a look at the overall results table for the full picture!
Each year group was competing for their House as part of the whole school. With all the results in, it was remarkably close. Grimaldi's consistency paid off, accruing a staggering 58 points, matching the class of the most frequent 1st place team, Shackleton. All House Captains extend their gratitude to all those who took part and competed and are very much looking forward to the next time they can go head to head! Maybe Earhart is just taking off and on her flight path to victory for next time? (Pictured below: Year 9 Football competition)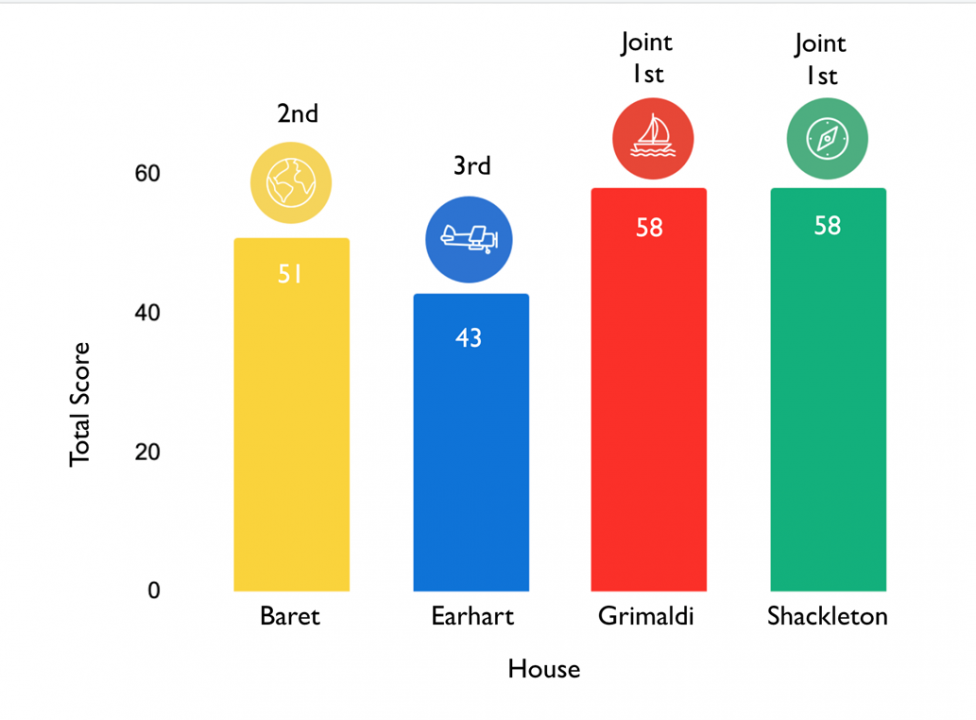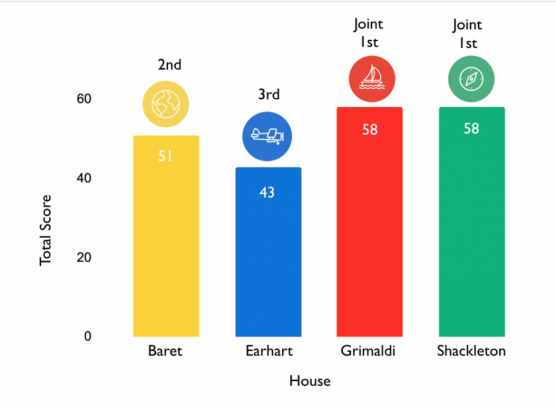 array(5) { [0]=> array(24) { ["ID"]=> int(17407) ["id"]=> int(17407) ["title"]=> string(36) "A9C0B0CB-A79D-4AFF-BED3-3396BC8740F5" ["filename"]=> string(40) "A9C0B0CB-A79D-4AFF-BED3-3396BC8740F5.jpg" ["filesize"]=> int(407635) ["url"]=> string(92) "https://www.ismonaco.org/wp-content/uploads/2022/06/A9C0B0CB-A79D-4AFF-BED3-3396BC8740F5.jpg" ["link"]=> string(112) "https://www.ismonaco.org/whats-on/newsletters/edition-50/hot-off-the-press/a9c0b0cb-a79d-4aff-bed3-3396bc8740f5/" ["alt"]=> string(0) "" ["author"]=> string(1) "6" ["description"]=> string(0) "" ["caption"]=> string(0) "" ["name"]=> string(36) "a9c0b0cb-a79d-4aff-bed3-3396bc8740f5" ["status"]=> string(7) "inherit" ["uploaded_to"]=> int(16182) ["date"]=> string(19) "2022-06-10 05:32:27" ["modified"]=> string(19) "2022-06-10 05:32:27" ["menu_order"]=> int(0) ["mime_type"]=> string(10) "image/jpeg" ["type"]=> string(5) "image" ["subtype"]=> string(4) "jpeg" ["icon"]=> string(61) "https://www.ismonaco.org/wp-includes/images/media/default.png" ["width"]=> int(1440) ["height"]=> int(1080) ["sizes"]=> array(12) { ["thumbnail"]=> string(100) "https://www.ismonaco.org/wp-content/uploads/2022/06/A9C0B0CB-A79D-4AFF-BED3-3396BC8740F5-300x300.jpg" ["thumbnail-width"]=> int(300) ["thumbnail-height"]=> int(300) ["medium"]=> string(100) "https://www.ismonaco.org/wp-content/uploads/2022/06/A9C0B0CB-A79D-4AFF-BED3-3396BC8740F5-547x410.jpg" ["medium-width"]=> int(547) ["medium-height"]=> int(410) ["medium_large"]=> string(100) "https://www.ismonaco.org/wp-content/uploads/2022/06/A9C0B0CB-A79D-4AFF-BED3-3396BC8740F5-960x720.jpg" ["medium_large-width"]=> int(960) ["medium_large-height"]=> int(720) ["large"]=> string(102) "https://www.ismonaco.org/wp-content/uploads/2022/06/A9C0B0CB-A79D-4AFF-BED3-3396BC8740F5-1333x1000.jpg" ["large-width"]=> int(1333) ["large-height"]=> int(1000) } } [1]=> array(24) { ["ID"]=> int(17399) ["id"]=> int(17399) ["title"]=> string(36) "847C17B8-094B-4574-AE85-BCC69CEC1F37" ["filename"]=> string(40) "847C17B8-094B-4574-AE85-BCC69CEC1F37.jpg" ["filesize"]=> int(353537) ["url"]=> string(92) "https://www.ismonaco.org/wp-content/uploads/2022/06/847C17B8-094B-4574-AE85-BCC69CEC1F37.jpg" ["link"]=> string(112) "https://www.ismonaco.org/whats-on/newsletters/edition-50/hot-off-the-press/847c17b8-094b-4574-ae85-bcc69cec1f37/" ["alt"]=> string(0) "" ["author"]=> string(1) "6" ["description"]=> string(0) "" ["caption"]=> string(0) "" ["name"]=> string(36) "847c17b8-094b-4574-ae85-bcc69cec1f37" ["status"]=> string(7) "inherit" ["uploaded_to"]=> int(16182) ["date"]=> string(19) "2022-06-10 05:32:23" ["modified"]=> string(19) "2022-06-10 05:33:07" ["menu_order"]=> int(0) ["mime_type"]=> string(10) "image/jpeg" ["type"]=> string(5) "image" ["subtype"]=> string(4) "jpeg" ["icon"]=> string(61) "https://www.ismonaco.org/wp-includes/images/media/default.png" ["width"]=> int(1440) ["height"]=> int(1080) ["sizes"]=> array(12) { ["thumbnail"]=> string(100) "https://www.ismonaco.org/wp-content/uploads/2022/06/847C17B8-094B-4574-AE85-BCC69CEC1F37-300x300.jpg" ["thumbnail-width"]=> int(300) ["thumbnail-height"]=> int(300) ["medium"]=> string(100) "https://www.ismonaco.org/wp-content/uploads/2022/06/847C17B8-094B-4574-AE85-BCC69CEC1F37-547x410.jpg" ["medium-width"]=> int(547) ["medium-height"]=> int(410) ["medium_large"]=> string(100) "https://www.ismonaco.org/wp-content/uploads/2022/06/847C17B8-094B-4574-AE85-BCC69CEC1F37-960x720.jpg" ["medium_large-width"]=> int(960) ["medium_large-height"]=> int(720) ["large"]=> string(102) "https://www.ismonaco.org/wp-content/uploads/2022/06/847C17B8-094B-4574-AE85-BCC69CEC1F37-1333x1000.jpg" ["large-width"]=> int(1333) ["large-height"]=> int(1000) } } [2]=> array(24) { ["ID"]=> int(17403) ["id"]=> int(17403) ["title"]=> string(36) "52B07F12-C133-4C54-9151-E07F4C5C9F75" ["filename"]=> string(40) "52B07F12-C133-4C54-9151-E07F4C5C9F75.jpg" ["filesize"]=> int(347359) ["url"]=> string(92) "https://www.ismonaco.org/wp-content/uploads/2022/06/52B07F12-C133-4C54-9151-E07F4C5C9F75.jpg" ["link"]=> string(112) "https://www.ismonaco.org/whats-on/newsletters/edition-50/hot-off-the-press/52b07f12-c133-4c54-9151-e07f4c5c9f75/" ["alt"]=> string(0) "" ["author"]=> string(1) "6" ["description"]=> string(0) "" ["caption"]=> string(0) "" ["name"]=> string(36) "52b07f12-c133-4c54-9151-e07f4c5c9f75" ["status"]=> string(7) "inherit" ["uploaded_to"]=> int(16182) ["date"]=> string(19) "2022-06-10 05:32:25" ["modified"]=> string(19) "2022-06-10 05:32:25" ["menu_order"]=> int(0) ["mime_type"]=> string(10) "image/jpeg" ["type"]=> string(5) "image" ["subtype"]=> string(4) "jpeg" ["icon"]=> string(61) "https://www.ismonaco.org/wp-includes/images/media/default.png" ["width"]=> int(1440) ["height"]=> int(1086) ["sizes"]=> array(12) { ["thumbnail"]=> string(100) "https://www.ismonaco.org/wp-content/uploads/2022/06/52B07F12-C133-4C54-9151-E07F4C5C9F75-300x300.jpg" ["thumbnail-width"]=> int(300) ["thumbnail-height"]=> int(300) ["medium"]=> string(100) "https://www.ismonaco.org/wp-content/uploads/2022/06/52B07F12-C133-4C54-9151-E07F4C5C9F75-544x410.jpg" ["medium-width"]=> int(544) ["medium-height"]=> int(410) ["medium_large"]=> string(100) "https://www.ismonaco.org/wp-content/uploads/2022/06/52B07F12-C133-4C54-9151-E07F4C5C9F75-955x720.jpg" ["medium_large-width"]=> int(955) ["medium_large-height"]=> int(720) ["large"]=> string(102) "https://www.ismonaco.org/wp-content/uploads/2022/06/52B07F12-C133-4C54-9151-E07F4C5C9F75-1326x1000.jpg" ["large-width"]=> int(1326) ["large-height"]=> int(1000) } } [3]=> array(24) { ["ID"]=> int(17411) ["id"]=> int(17411) ["title"]=> string(36) "0705CAED-6353-4D3C-90E1-8E4C886C0B58" ["filename"]=> string(40) "0705CAED-6353-4D3C-90E1-8E4C886C0B58.jpg" ["filesize"]=> int(484824) ["url"]=> string(92) "https://www.ismonaco.org/wp-content/uploads/2022/06/0705CAED-6353-4D3C-90E1-8E4C886C0B58.jpg" ["link"]=> string(112) "https://www.ismonaco.org/whats-on/newsletters/edition-50/hot-off-the-press/0705caed-6353-4d3c-90e1-8e4c886c0b58/" ["alt"]=> string(0) "" ["author"]=> string(1) "6" ["description"]=> string(0) "" ["caption"]=> string(0) "" ["name"]=> string(36) "0705caed-6353-4d3c-90e1-8e4c886c0b58" ["status"]=> string(7) "inherit" ["uploaded_to"]=> int(16182) ["date"]=> string(19) "2022-06-10 05:32:29" ["modified"]=> string(19) "2022-06-10 05:32:29" ["menu_order"]=> int(0) ["mime_type"]=> string(10) "image/jpeg" ["type"]=> string(5) "image" ["subtype"]=> string(4) "jpeg" ["icon"]=> string(61) "https://www.ismonaco.org/wp-includes/images/media/default.png" ["width"]=> int(1440) ["height"]=> int(1080) ["sizes"]=> array(12) { ["thumbnail"]=> string(100) "https://www.ismonaco.org/wp-content/uploads/2022/06/0705CAED-6353-4D3C-90E1-8E4C886C0B58-300x300.jpg" ["thumbnail-width"]=> int(300) ["thumbnail-height"]=> int(300) ["medium"]=> string(100) "https://www.ismonaco.org/wp-content/uploads/2022/06/0705CAED-6353-4D3C-90E1-8E4C886C0B58-547x410.jpg" ["medium-width"]=> int(547) ["medium-height"]=> int(410) ["medium_large"]=> string(100) "https://www.ismonaco.org/wp-content/uploads/2022/06/0705CAED-6353-4D3C-90E1-8E4C886C0B58-960x720.jpg" ["medium_large-width"]=> int(960) ["medium_large-height"]=> int(720) ["large"]=> string(102) "https://www.ismonaco.org/wp-content/uploads/2022/06/0705CAED-6353-4D3C-90E1-8E4C886C0B58-1333x1000.jpg" ["large-width"]=> int(1333) ["large-height"]=> int(1000) } } [4]=> array(24) { ["ID"]=> int(17415) ["id"]=> int(17415) ["title"]=> string(36) "7B5A87C2-195D-47B1-A661-D6AEC935CA4B" ["filename"]=> string(40) "7B5A87C2-195D-47B1-A661-D6AEC935CA4B.jpg" ["filesize"]=> int(631151) ["url"]=> string(92) "https://www.ismonaco.org/wp-content/uploads/2022/06/7B5A87C2-195D-47B1-A661-D6AEC935CA4B.jpg" ["link"]=> string(112) "https://www.ismonaco.org/whats-on/newsletters/edition-50/hot-off-the-press/7b5a87c2-195d-47b1-a661-d6aec935ca4b/" ["alt"]=> string(0) "" ["author"]=> string(1) "6" ["description"]=> string(0) "" ["caption"]=> string(0) "" ["name"]=> string(36) "7b5a87c2-195d-47b1-a661-d6aec935ca4b" ["status"]=> string(7) "inherit" ["uploaded_to"]=> int(16182) ["date"]=> string(19) "2022-06-10 05:32:31" ["modified"]=> string(19) "2022-06-13 12:34:59" ["menu_order"]=> int(0) ["mime_type"]=> string(10) "image/jpeg" ["type"]=> string(5) "image" ["subtype"]=> string(4) "jpeg" ["icon"]=> string(61) "https://www.ismonaco.org/wp-includes/images/media/default.png" ["width"]=> int(1440) ["height"]=> int(1080) ["sizes"]=> array(12) { ["thumbnail"]=> string(100) "https://www.ismonaco.org/wp-content/uploads/2022/06/7B5A87C2-195D-47B1-A661-D6AEC935CA4B-300x300.jpg" ["thumbnail-width"]=> int(300) ["thumbnail-height"]=> int(300) ["medium"]=> string(100) "https://www.ismonaco.org/wp-content/uploads/2022/06/7B5A87C2-195D-47B1-A661-D6AEC935CA4B-547x410.jpg" ["medium-width"]=> int(547) ["medium-height"]=> int(410) ["medium_large"]=> string(100) "https://www.ismonaco.org/wp-content/uploads/2022/06/7B5A87C2-195D-47B1-A661-D6AEC935CA4B-960x720.jpg" ["medium_large-width"]=> int(960) ["medium_large-height"]=> int(720) ["large"]=> string(102) "https://www.ismonaco.org/wp-content/uploads/2022/06/7B5A87C2-195D-47B1-A661-D6AEC935CA4B-1333x1000.jpg" ["large-width"]=> int(1333) ["large-height"]=> int(1000) } } }